Reportase.one – Minister of Women's Empowerment and Child Protection (PPPA) I Gusti Ayu Bintang Darmawati, today visited Pasar Senen Station, Jakarta. Minister Bintang's visit this time was to inspect the facilities at the station, especially for women and children.
After looking at the facilities at Pasar Senen Station, Minister Bintang considered that in general the facilities at the station met the friendly standards for women and children.
The facilities include a children's playroom, lactation room and health examination room.
"We express our highest appreciation to PT KAI that if we standardize what we hope to be able to provide safe, comfortable and women-friendly homecoming and child protection in general it has been fulfilled," he told media crew, Sunday (16/4/2023) .
Also Read:
How to Overcome Motion Sickness When Going Home
In addition, Minister Bintang also assessed that the facilities at Pasar Senen Station were also disability-friendly.
On that occasion, he also greeted the passengers who were going home by train.
Minister Bintang also provided parcels to the passengers and children containing medicines, vitamins, snacks and women-specific gifts containing hygiene kits, vitamins and snacks.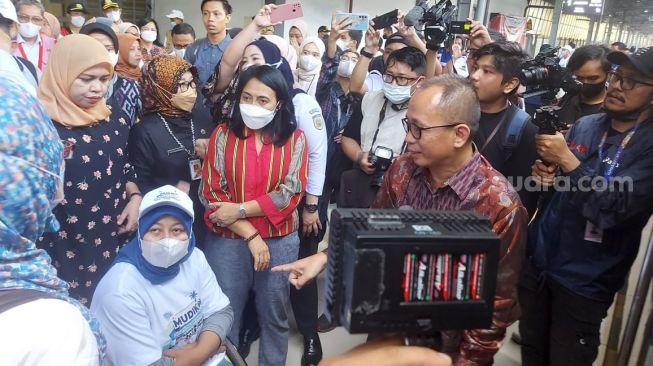 "Related to disability, there have been extraordinary steps taken and also to provide a comfortable atmosphere for children, there is already a playroom for children who are friendly," he said.
In the same place, the Director General of Railways of the Ministry of Transportation, Risal Wasal, added that his party would improve the existing facilities at the station, especially for persons with disabilities.
Also Read:
Governor Khofifah Invites 148,261 Personnel to Synergize to Ensure Smooth Eid Homecoming
"In improving the service in the future, we have prepared a trolley that will make it easier for the disabled to get on and off the train," he concluded.


source: www.suara.com

Source link