Hong Kong (Reportase One) – At a factory about 45 minutes' drive from Dhaka, the capital of Bangladesh, tens of thousands of employees are busy working the production lines, turning out more than 200,000 hats every day for export to countries around the world.
Founded by Hong Kong entrepreneur Pauline Ngan Po-ling, the factory is named Unimas Sportswear Limited.
The factory belongs to Bangladesh-based Mainland Headwear Holdings Limited, one of the world's largest hat manufacturers.
Mainland Headwear Holdings Limited was founded in 1992 in Shenzhen, south China's Guangdong Province, a model city for China's reform and opening up policy.
In 2000, the company was registered in Hong Kong, Ngan's birthplace. Ngan set up a factory in Bangladesh in 2013 following the Belt and Road Initiative (Belt and Road Initiative/BRI) initiated by China.
Ngan is determined to seize the opportunity to expand overseas provided by BRI for labour-intensive producers.
Accordingly, he decided to relocate the main production line of his factory to Bangladesh, a major country in the world in terms of textile processing as well as textile exporter which has a large young and skilled workforce.

 
"Power cuts occur 20 to 30 times a day, and 90 percent of our employees can't even write their names," Ngan said in an interview with Xinhua. "It's been a long journey for us to be able to achieve this success."
Ngan and his team began developing the area by drilling wells, building roads and establishing a steady supply of electricity. For two years straight, they worked tirelessly to establish a modern production base in that remote, barren region.
Ngan's efforts to build from a small factory with a hundred employees have now developed into a modern facility with thousands of workers.
Even during the COVID-19 pandemic, the company's net profit maintained an annual growth rate of 50 percent.
Next month, Mainland Headwear's fourth phase factory in Bangladesh will be fully operational, with a total area of ​​over 90,000 square meters.
"The rapid development of this company is thanks to the benefits provided by BRI," said Ngan.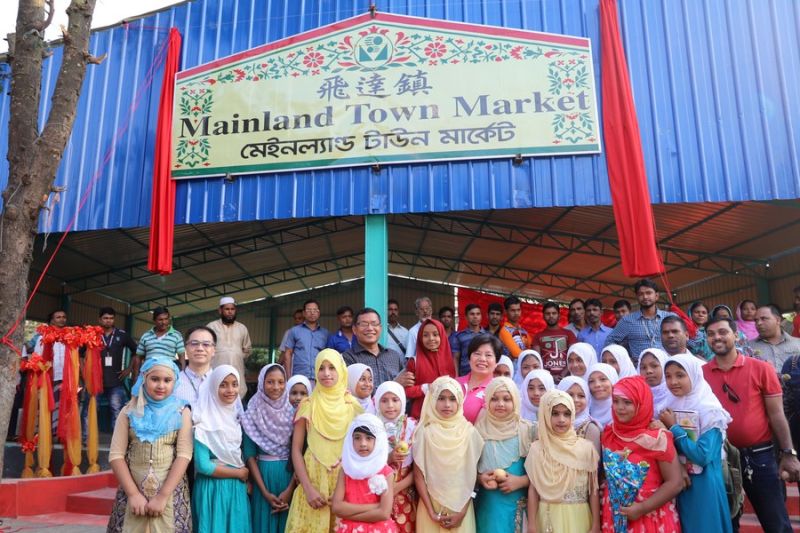 Infrastructure cooperation has also accelerated, due to the proliferation of roads, bridges and power plants.
Last year, the Chinese-built Padma Bridge was opened to traffic, which Ngan said could benefit a fifth of the country's 170 million people.
"Where roads are built, that's where wealth is added," said Ngan.
He added that more than 100 containers are sent from the factory to the port every month. Travel time has been reduced from 17 hours to just four and a half hours, thanks to significant infrastructure improvements.
The village also underwent a dramatic transformation. From an initial population of less than 400 people, the village has now grown into a prosperous town of nearly 40,000 residents.
Due to the good working environment and high salary, Unimas Sportswear is the favorite company in the area.
Ngan set up a poverty alleviation fund for the construction of a market and orphanage in the area, which added to the company's popularity and the welfare of the local people.
On holidays, Ngan usually wears traditional Bangladeshi clothing and celebrates with local residents.
For 10 years, the company has routinely distributed gifts to its employees. The parcels contained rice, flour, sugar and oil, as well as soap, which is considered a "premium product" by local people.
"Bangladesh holds a special place in my heart as my third homeland, and its people are my brothers and sisters," said Ngan.
In 2017, Bangladeshi authorities officially named the thriving village after Ngan's company.
Ngan's story is a testament to the entrepreneurial power and opportunity presented by BRI.
By investing in a poverty-stricken village in Bangladesh, Ngan is not only changing the lives of local residents, but also creating successful businesses that are an integral part of global supply chains.
In September this year, Ngan said he would be invited to share his entrepreneurial experience with students in Hong Kong.
Ngan also prepared 20 to 30 places for Hong Kong students to do internships in factories in Bangladesh.
"BRI provides greater space for entrepreneurship, and Hong Kong youth should pay attention and seize this new opportunity," said Ngan.
Messenger: Xinhua
Editor: Tia Mutiasari
COPYRIGHT © BETWEEN 2023
source: www.antaranews.com

Source link