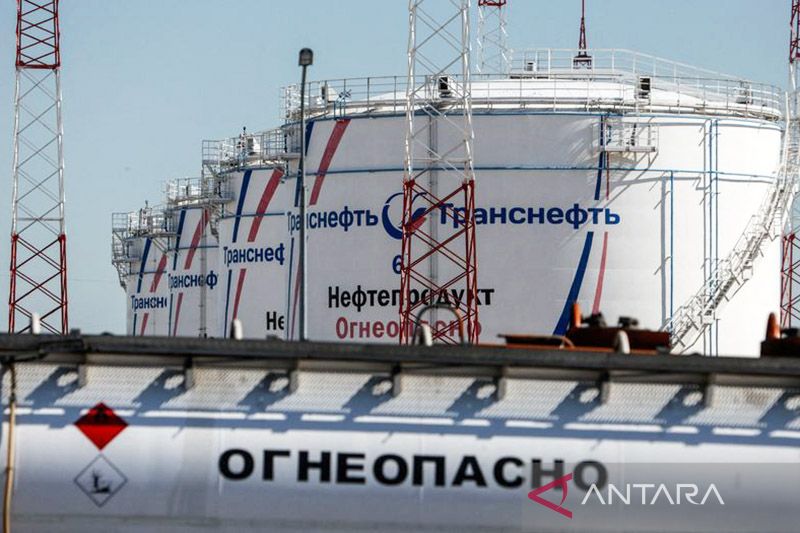 MOSCOW (Reportase One) – Russia has successfully transferred all of its crude oil exports hit by Western sanctions as a result of its military operations in Ukraine to friendly countries, Russian Energy Minister Nikolai Shulfinov said on Tuesday.
Western countries have imposed extensive sanctions on Russia, including an embargo on oil exports by sea, after it invaded Ukraine in February 2022.
"I can say that today we managed to completely redirect all export volumes that were affected by the embargo. There was no reduction in sales," Shulginov said at an energy forum.
However, Shulginov stated that a decline in oil and gas production will still occur this year due to pressure from Western sanctions against Moscow and a decrease in potential buyers from Europe.
Shulginov emphasized that Russia has been working to divert its exports of oil and oil products from European markets to Asia, Africa, Latin America and the Middle East.
India is the biggest buyer of Ural-grade crude oil produced by Russia in March. Shipments of these commodities to India are expected to account for more than 50 percent of all Ural oil exports this month, with China coming in second.
Meanwhile at the same event, President Director of major Russian oil company Gazprom Neft, Alexander Dyukov, said conditions in 2023 would be more challenging than 2022 due to increasing sanctions pressure.
Deputy Prime Minister of Russia Alexander Novak also said that Russian oil sales to India increased 22 times last year, although he did not specify how many volumes were sold.
He stated that the contribution of the energy sector to the income of the Russian federal budget in 2022 will reach 42 percent, an increase from 36 percent in 2021.
Novak emphasized that the Russian energy industry will still be sustainable amid challenges from sanctions from Western countries.
Russia also needs to focus on boosting its energy exports to friendly countries and continuing the necessary developments to support such trade, he added.
Source: Reuters

Also read: Oil prices have strengthened on the back of lower prospects for Russian exports
Also read: Oil prices in Asia rise due to Russia's plan to reduce exports
Also read: Russia responds to limiting oil prices by sending more to Asia

Translator: Nabil Ihsan
Editor: Atman Ahdiat
COPYRIGHT © BETWEEN 2023
source: www.antaranews.com

Source link